Sigma College of Nursing and Applied Sciences Established: August 2004
Name of Principal/President: Novelett Wilson Phd
Board Chairperson: Miss Kahadine Brown, Attorney-at-Law
School Organization:
The College is divided into two departments: i. Academic ii. Administrative.
Two fulltime Nurse Educators and Two part time nurse Educators. Five part time General Educators.
Continuing Education and other short courses: Phlebotomy 30 hours, Disaster Preparedness 8 hours, Nurse Preceptor Programme 145 hours, HIV/AIDS 8 hours, First Aid/BLS 8 hours, Nursing Physical Assessment 30 hours, Tuberculosis 8 hours.
Programmes being offered:
Degree Programmes

Bachelor of Science – Nursing
Bachelor of Science – Health Service Management
Registered Institutions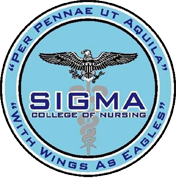 School Name:

Sigma College of Nursing and Applied Sciences (formally Sigma School of Nursing and Applied Sciences)

Address:

P O Box 437, 34 Top Road, Brown's Town, St Ann

Telephone:

+1 (876) 917 7027

Website:

www.sigmacollegeofnursing.com
Matriculation:
Degree level:

minimum of five (5) subjects required – CXC/CSEC General Proficiency Grades I,II,III: GCE O'Level Grades A,B,C; or CAPE Grades 1-4.

Compulsory:

Math, English Language, Biology/Human and Social Biology. No more than two subjects at level 3.

Certificate level:

High School Leaving Certificate.
Gender:

Female

Age range of students:

18-40+

Capacity:

168

Enrolment:

39 Full Time (degree level students)
12 Part Time (degree level students)

Attendance Rate:

85%

Number of Lecturers:

62
NUMBER OF SUPPORT STAFF:
Senior Management:

3 full time
2 part time.

Administrative:

8

Security:

3
Student to Lecturer Ratio:

20:1

Owned by: 

Vanilyn Brown-Daley, Novelett Wilson and Sharon Hunter.