College of Ministry & Interdisciplinary Studies
(formerly Caribbean Pentecostal College)
Established: 1960
Name of Principal/President:
Rev. Orett E. Samuels
Board Chairperson:
Rev. Donald Walters
School Organization:
Currently we have 1 Faculty – Christian Education , Two Departments, Administrative and Accounting and Academia
Programmes being offered:
Certificate in Christian Ministry
Diploma in Christian Ministry
Ministerial License Programme.
Registered Institutions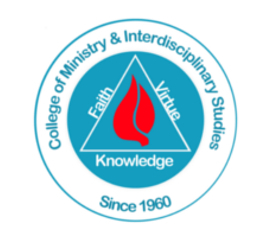 School Name:

Caribbean Pentecostal College


Address:

P.O. Box 5983 Shooters Hill,
Manchester

Telephone:

+1 (876) 603 1399
+1 (876) 420 6280

Website:

http://cmcollege.education/
Matriculation:
A minimum of 5 CXC and/ or CSEC (General Proficiency) or its equivalent. The subjects must include English Language.
Students not meeting these requirements will be required to sit an entrance exam administered by the college. They will be required to make a satisfactory score on the entrance exam.
Mature students without the required qualification may also be admitted to the programme. The applicant must demonstrate their ability for tertiary studies by virtue of experience in Christian Ministry, prior learning or other achievements. In addition, the application must be supported by a letter of recommendation from the applicant's Pastor
Gender:

Co-educational

Age range of students:

18 years – 60 years

Capacity:

50

Enrolment:

19

Attendance Rate:

95%

Number of Lecturers:

6
NUMBER OF SUPPORT STAFF:
Administrative Staff:

1

Accountant:

1

Janitor:

1

Marketing Officer:

1
Student to Lecturer Ratio:

18:1

Owned by:

Pentecostal Church of God, Jamaica