Twin doctors in the same space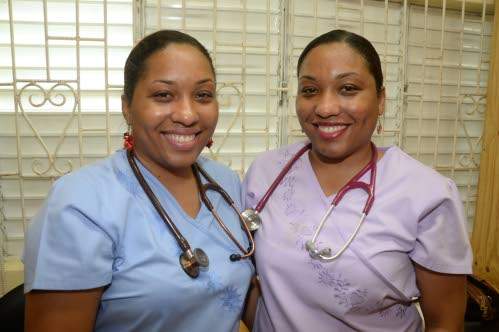 Your chances of encountering twins in the general population are sometimes slim, much more the oddity of meeting twins who both work in the same profession…in the same institution.
Identical twin doctors, Krystle and Kimberley Maragh, (29), presented much the confusion and intrigue for their patients in health centres across Clarendon when they first officially entered the medical profession in 2015.
"Our patients at first didn't realise that we were twins. When we just started, patients would come up to me and start talking to me and handing me their file, and when I tell them that it wasn't me who they saw, that it was my sister, they wouldn't believe me," Krystle Maragh told the Jamaica Observer as the two carried out their rounds at the emergency department of Chapelton Community Hospital, in Summerfield Clarendon last Sunday.
Both earned Bachelor of Medicine and Surgery degrees from The University of the West Indies (UWI), Mona, before completing their internship at May Pen Hospital in their home parish of Clarendon.
Click here to read more: http://www.jamaicaobserver.com/news/twin-doctors-in-the-same-space-maragh-sister-act_173748